Creative Commons Icons
& Images

Koenig Media, LLC the parent company of IconBug is a huge fan of Creative Commons Images, and therefore a fan of Creative Commons Icons. CC licensed work simplifies license types and frees up artist to work more on design and worry less about legal issues.
In fact working within the Creative Commons spectrum of "art" or "images" can be relatively easy so long as you have the correct resources. That being said please bookmark our website now by hitting ctrl+d.
All this SOPA mess that we are hearing about in the news is congresses attempt to protect the system, and this could easily be fixed if all things were licensed as CC materials. There are already rules in place if they would just look and see.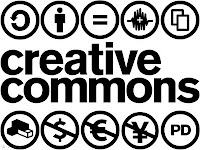 So what is Creative Commons you may be asking? You may not be familiar with the term, but I bet you've seen the logo before. The CC logo (as seen at the top of this article) represents and protects creative works while at the same time sharing the works in a manner that promotes the artist talents.
So what do we mean by "promotes the artist talents"? If you decide to share your art as CC by Atr 3.0 this will allows others to "remix" your works so long as the give you credit for the original work. If you are interested in licensing your images through the Creative Commons system please visit http://creativecommons.org/choose/
In addition to many creative commons icons and images we also have thousands of items on IconBug.com that are totally free with no restrictions, as well as items that free for personal usage. Personal usage items could be quickly described as items can be used for personal projects for your own usage and "just for fun".
Still Confused by Creative Commons?
If the concepts of creative commons still eludes you then you may want to check out the official CC site by going to http://creativecommons.org/ where they go into great detail the history and proper usage of the Creative Commons projects.
So in summary if you are interested in promoting such works please...please do. Sharing your works with others makes for a more enriched society and if done correctly will promote you as an artist.
Thanks for reading.
IconBug.com
About

IconBug is and advanced Icon search engine and management system that allows it's users to download, share, comment, and upload icons.
We provide prescaled icons that can be used in your mobile applications, desktop applications, web sites, blogs, power point presentations, and more.
We are adding hundreds of icons weekly to our site so we promise you fresh content.
If you are a designer or artist please upload your icons to te website using this form.